InnSite® Bandwidth Aggregator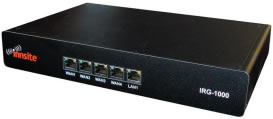 Provide superior network bandwidth and reliability using the InnSite® Bandwidth Aggregator to harness the extra bandwidth from secondary and backup ISP connections.

Increase Bandwidth

An important consideration for any network connection is how much bandwidth is offered. Insufficient bandwidth causes problems including slow connectivity and even connection failure if bandwidth is fully utilized. The bandwidth aggregator supports up to 4 Internet connections, removing the bottle-neck of forcing all traffic through a single connection by aggregating connections to provide speeds unavailable from a single connection.

Providing service through a single connection is no longer necessary. The InnSite® Bandwidth Aggregator links together ISP connections, providing more bandwidth and better service.

Maximize Uptime

Using the bandwidth aggregator reduces downtime. If an office building has two ISP connections linked to the unit and a connection goes down, the aggregator instantly detects the outtage and seamlessly transfers all traffic to the operational connection. The unit supports virtually any connection circuit type, including wireless. With a third wireless connection added to the bandwidth aggregator, not only will that increase available bandwidth, but also be a tertiary backup if the first two hard line ISP connections go down.

With the InnSite® Bandwidth Aggregator, there is no longer a need to rely on a single ISP connection. The unit aggregates two or more connections and automatically fails over if a connection goes down.

Be in the Know

Does your router notify you when there is a problem? The InnSite® Bandwidth Aggregator automatically sends event notifications. Find out right away when the external IP address changes or when an ISP connection goes down. Acting on these notices can shorten or even prevent outages from occurring.

Additionally, the aggregator unit provides bandwidth utilization reports that can be useful for determining problem areas in the network or just monitoring general network health.

Take Control of Your Network

InnSite® fully integrates with our bandwidth aggregator, allowing easy and powerful configuration and management your network. Easily manage all ISP connections, subscribers, IP addresses, port forwarding, and more. Additionally, the InnSite® Bandwidth Aggregator offers QOS (Quality Of Service) control to define priority to different classes of traffic.

The Low Cost Solution

The InnSite® Bandwidth Aggregator has no up-front equipment costs and a low monthly service fee for InnSite® integration and to ensure the unit's smooth operation. In the rare event of equipment failure, InnSite® offers spare in the air replacement service and will fly a new bandwidth aggregator the next business day to minimize impact on business. Remote and on site installation services are also available.

Other bandwidth aggregators cost about $4000 and simply do not offer the level service that comes with InnSite®.

Contact us for additional information and free consultation on how the InnSite® Bandwidth Aggregator can benefit your network.